Cash withdrawals at the Point of Sale

INCREASE STORE TRAFFIC, REDUCE COST OF CASH MANAGEMENT
What is cashback?
Cashback is a Point of Sale (POS) terminal service that enables the withdrawal of money from the store's cash register when selling goods and services with a locally issued Visa or Mastercard debit card. POS terminals equipped with this functionality are complementary to the ATM network, and, furthermore, cardholders can withdraw small amounts of money (upto 100 Euros) at convenient for them locations. The POS terminal verifies card's eligibility and prompts the user accordingly. Merchants don't incur any costs for facilitating cashback and cardholders do not incur any type of fees when using this service.
Note.
You can apply for the activation of the JCCcashback service by completing and submitting the below form: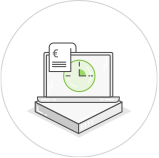 Stronger customer loyalty
The availability of a new service on the POS terminal results in an increase in the frequency of the existing customers' visits to the store.
An additional service helps increase the number of customers who visit the store, which translates into an increase in profits.
Lower costs related to the holding and logistics of cash
The possibility of withdrawing cash via a POS terminal reduces the costs related to the overall cash management.
Have we answered everything?
If there's something we haven't answered, feel free to get in touch.