Quick check-out for contactless cards, mobile devices and wearables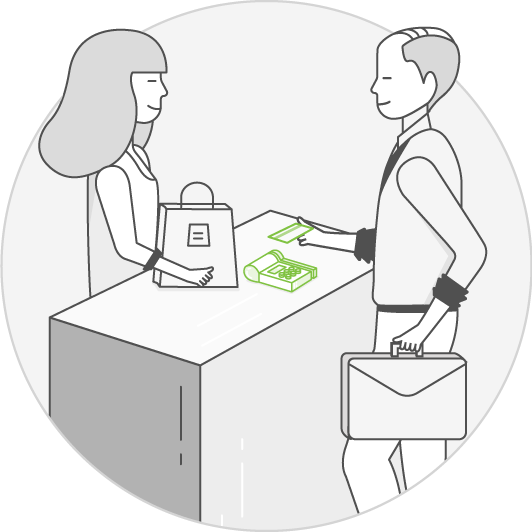 WIRELESS CHECK-OUT
Lighten up your POS
JCCcontactless
lets your POS terminal communicate with contactless cards, mobile devices and wearables seamlessly at checkout to make payment even faster. Whether it's VISA payWave, Mastercard PayPass, a payment-enabled phone or a smart watch, JCC POS terminals equipped with
JCCcontactless
accept payments from any device your customers present at the register, quickly and securely.
Contactless payments are automatically available on all JCC POS terminals. No PIN is required from your customers to make payments up to €50.
JCCcontactless technology is protected by the same high level of security as JCC chip and PIN cards, so you can be sure that your transactions are safe.
How contactless cards work
To pay, customers don't need to physically make contact with your card reader. Cards can simply be held up to the reader. Contactless technology can be used for all payments regardless of amount. PIN numbers will not be requested unless the customer is paying more than €50, though PINs will occasionally be asked as an extra security measure.
How JCC Contactless works with wearables and mobile devices
Customers shopping with wristbands, key fobs, and even stickers with microtags that store users' encrypted card details, enjoy the same security guarantees as shoppers using regular chip and PIN cards. In the case of wearables and mobile devices, the only difference is that contactless chips wirelessly connect with your POS terminal. JCC's POS terminals are compatible with OEM Pay wallets, including Apple Pay, Samsung Pay, Google Play, Garmin Pay, Fitbit Pay etc, as well as with HCE wallets for Visa and Mastercard.
Have we answered everything?
If there's something we haven't answered, feel free to get in touch.