JCC FLEXIBLE POS SOLUTIONS
A POS terminal for every kind of business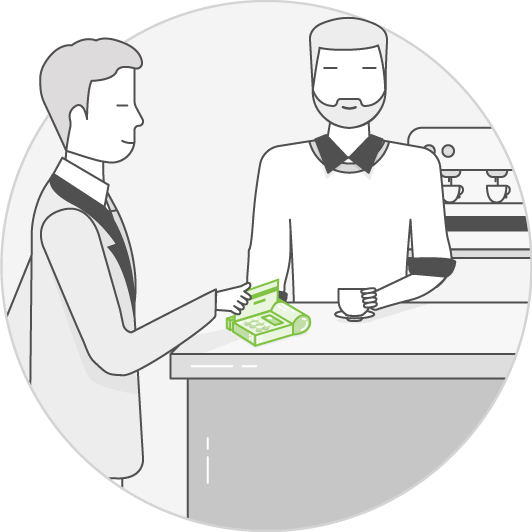 SELLING IN-SHOP?
Now you have 7 ways to check out
Your business isn't the same as anyone else's. Your check-out experience should reflect that. That's why JCC offers in-store retailers
7 different POS terminal options,
so that whatever style you've created for your business carries over into the way your customers pay.
Fixed/Countertop (TCP/IP)

Our countertop terminals sit right on your counter. When customers are ready to pay, they go straight to your cash register. Ideal for retail businesses that prefer a static check out. Internet connection via ethernet cable is required.



Wireless (mobile data)

With our wireless terminals, you can accept payments wherever your customers are in your shop. A good fit for restaurants, telecom retailers or any shop where customer interactions aren't handled mainly at a check-out counter or desk. Wireless POS terminals communicate through the mobile telecommunications network. (sim-card included)



mPOS (mobile data)

Our mPOS terminals are the most adaptable, secure and innovative wireless devices offering organizations and businesses of all sizes a next generation mobile payment solution. They do not come with a built-in printer but rather send the transaction receipt to the cardholder via SMS. mPOS terminals communicate through the mobile telecommunications network. (sim-card included)



JCC SoftPOS

With our JCC SoftPOS app* you can accept contactless payments directly on your Android (NFC-enabled) device. Your customers are able to make their payments by tapping their contactless cards, HCE mobile wallets or wearables on your mobile device running the JCC SoftPOS app. The app is suitable for small businesses, mainly one-person businesses, having a single checkout point and carry out a small volume of card transactions.
*The JCC SoftPOS app requires that a minimum of technical specifications are met by the merchant's device and it's operating system.



ECR-integrated with Imprinter

JCC's ECR-integrated terminals connect directly to your cash register so that purchases are transferred electronically from your cash register to your POS card terminal. Our ECR-integrated terminals come with a built-in printer so you can print out all your card transaction receipts.



ECR-integrated without Imprinter

Just like JCC's ECR-integrated terminals, but without a built-in printer. All transaction receipts are printed by your cash register.



Unattended

Ideal for petrol stations or businesses that continue to operate after closing hours, our unattended terminals are fully automated and programmed to perform all your transactions when you're not there.
Have we answered everything?
If there's something we haven't answered, feel free to get in touch.